Clinical evidence
Sorptivity and durability of gelling fibre dressings
Sorptivity and durability of gelling fibre dressings tested in a simulated sacral pressure ulcer system: a Computer-controlled robotic phantom of an exuding sacral PU, simulating an active wound environment .
This laboratory study aimed to simulate dressing performance in real-world conditions including factors such as treatment protocols, patient positioning, time and exudate properties, which existing test methods may not reflect.
A novel lab method and system allowed for experiments that took these real-world factors into account, was created to test the sorptivity for Exufiber® and Exufiber® Ag+ and the durability for Exufiber.
hidden1
hidden2
Aims
The performance of gelling fiber dressings are affected by dressing design, the patient, and other real-world factors, including:
Dressing technology (material and architecture of fibres and superabsorbent elements)
Exudate viscosity (uptake rate, time for saturation and retention capacity)
Patient body position (resistance to flow due to gravity and body weight)
Pulling forces of dressing removal
This study simulates these conditions to determine how gelling fibre dressings perform and specifically measures:
sorptivity: the ability of dressings to move excessive exudate away from the wound bed by capillary action
durability: the ability of dressings to maintain its integrity in the wound over a period of time and upon removal
These attributes are critically important for preventing maceration and perform and inflammatory foreign-body reactions.
hidden1
hidden2
Methodology
Computer-controlled phantom: A robotic phantom of an exuding sacral pressure ulcers (PU)* was developed and used to compare Exufiber® and Exufiber® Ag+ to alternative market-leading dressings containing CMC fibres (silver and non-silver-containing).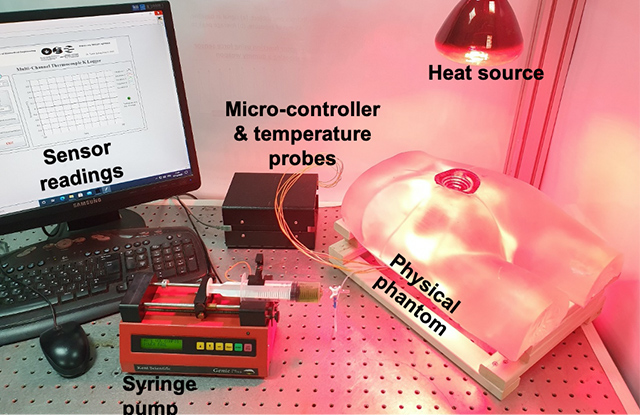 Computer-controlled phantom
Robotic phantom: A realistic rigid plastic replica of the pelvic bones and soft-tissue substitutes made of a two-component silicone rubber case in the shape of adult male buttocks. Continuous secretion of exudate into the sacral wound bed at various controlled, preset flow volumes and rates was simulated.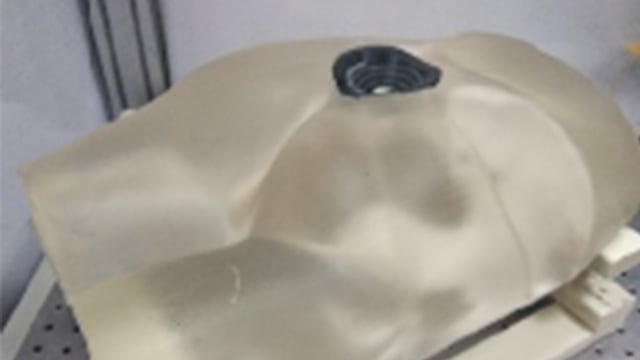 Physical phantom
Exudate substitute fluids and treatments: Exudate substitute fluid formula to be able to control fluid viscosity, temperature and pH levels to simulate exudate types, e.g., thin, watery, thick, sticky, etc.
Products tested: Exufiber or Exufiber Ag+ as primary dressings and Mepilex® Border Sacrum as a secondary dressing. Expert clinicians guided the cutting and and fitting of the gelling fibre dressings to fill the wound cavity and the alternative non-Mölnlycke, CMC fibre dressings to fill the wound cavity.
Testing
The robotic phantom was moved into different positions for different lengths of time, while the exudate system was activated to test different situations and parameters.
Retention and fluid distribution tests
Sorptivity was determined using weight tests of dressings after 5 to 15 hours of simulated use.
Material strength tests
Durability was measured through tensile strength tests of the dressings.
Results
The study found:
Sorptivity
Exufiber demonstrated 3x greater sorptivity (p<0.05), for supine configuration i.e. more fluid transfer to secondary dressing than non-Mölnlycke control dressing.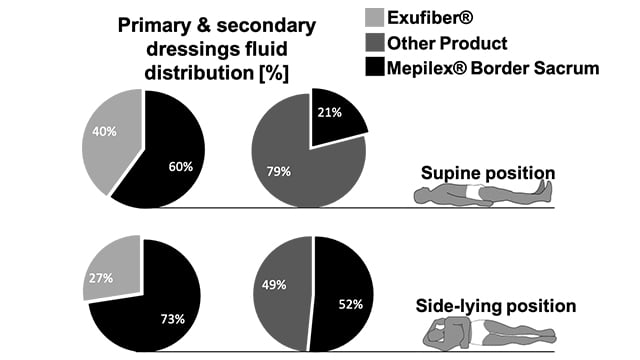 Exufiber Ag+ dressings retained 51% of exudate fluid and transferred the other 49% into the secondary dressing compared to control, which transported only 31% of the fluid to the secondary dressing.
Durability
Exufiber withstood 5x greater tensile energy (p<0.05) before failure than non-Mölnlycke control dressing.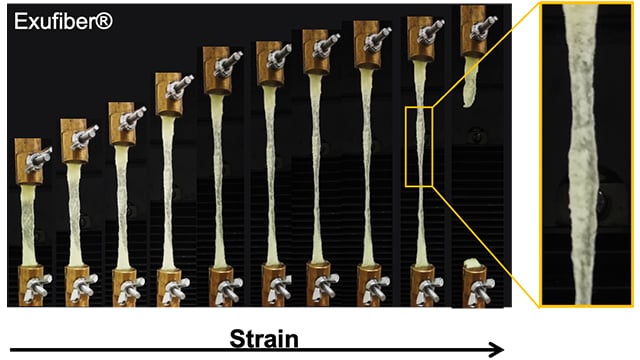 Tensile strength: Exufiber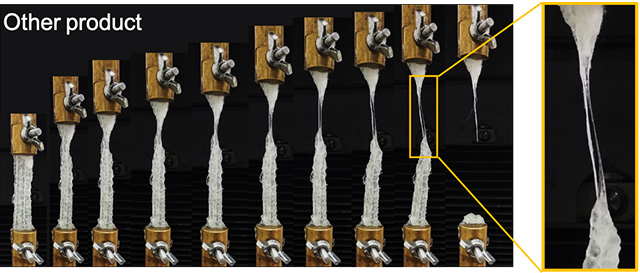 Tensile strength: non-Mölnlycke dressings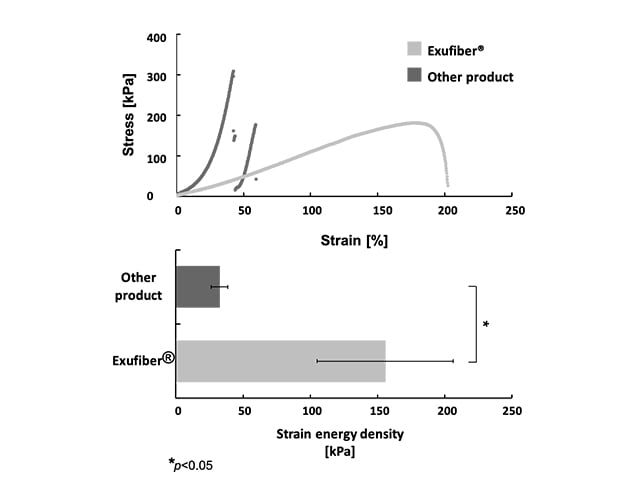 Exufiber: 5 times greater tensile energy
Conclusion
The study used a novel laboratory method and system to expose dressings to exudate‐like fluids at chemical, mechanical, thermodynamic, and use conditions, which replicate real‐world settings. The findings were:
Good sorptivity of the primary dressing is critical to clearing excess exudate from the wound bed, especially when dressings perform against gravity
Dressings with poor sorptivity have limited effective retention capacity when used in practice
Exufiber and Exufiber Ag+ dressings demonstrated better sorptivity through capillary action than control dressings
Exufiber dressings can withstand significantly greater mechanical energy levels before failure
* The PU indication is in CE markets only agreed for Exufiber and not Exufiber Ag+.
hidden1
hidden2
hidden1
hidden2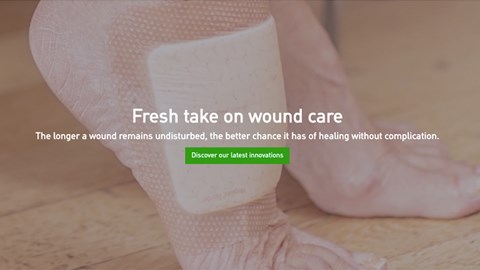 Fresh take on wound care
Undisturbed wound healing
Undisturbed wound healing centres around the idea that it is key to allow the body to handle the majority of the wound healing process itself, after good wound bed preparation .
hidden2
Products and solutions
Related products