hidden1
hidden2
Easy to miss
Skin tears are a common injury among elderly patients with fragile skin. They can be caused by every day accidents such as falling over or bumping into furniture, as well as friction from clothing or new surfaces such as a wheelchair or hospital bed. Anyone who is caring for elderly patients should be aware of skin tears. They can be painful and upsetting for patients who are affected, but are frequently ignored, misdiagnosed or mistreated. This is a problem because a hastily applied bandage or the wrong choice of dressing risks causing more damage, and turning an acute wound into a serious problem.
hidden1
hidden2
Easy to treat with the right products and training
Skin tears are easy to miss, but fortunately they are often easy to treat with the right solutions and training. We support the work from the leading organisation International Skin Tear Advisory Panel (ISTAP) to help healthcare professionals assess, treat and prevent skin tears .
hidden1
hidden2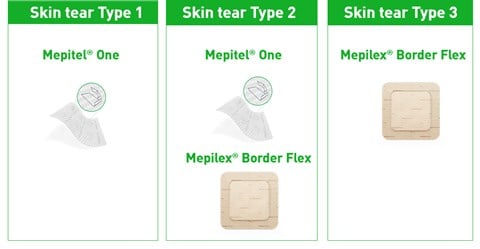 In 1989, we changed wound care forever with the invention of Safetac® soft silicone. Offering an alternative to traditional adhesive dressings, those featuring Safetac® technology – such as Mepitel® One and Mepilex® Border Flex – can help reduce pain and trauma to the skin during dressing changes, making them particularly well suited to skin tears.
Mepitel® One is designed to facilitate safe and undisturbed healing including safe removal on skin tears where the flap is fully or partially intact .
Mepilex® Border Flex - our next generation of flexible dressings are designed to stay on and uniquely conform, and with smart exudate management, providing confidence in leaving the dressing on longer. Suitable for a skin tear with total flap loss.
Managing skin tears
To become 'skin tear aware' carers need to consider the following:
-/-
hidden1
hidden2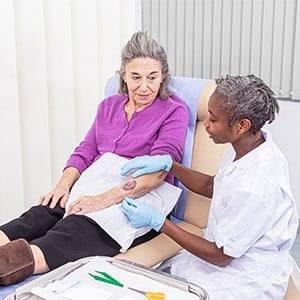 Assess
The first step is to assess the wound, confirm if it is a skin tear, and categorise according to flap loss .
Type 1 is where the flap is still intact
Type 2 skin tears feature partial flap loss
Type 3 is where there is total flap loss
hidden1
hidden2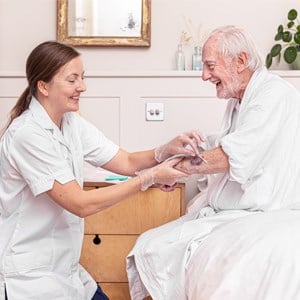 Treat
Once the skin tear type has been classified, the wound has stopped bleeding and the area has been cleansed, an appropriate dressing can be applied. Mepitel® One is well suited to managing skin tears, but more serious wounds may require a dressing such as Mepilex® Border Flex.
hidden1
hidden2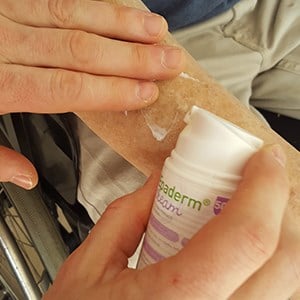 Prevent
The best way to treat a wound is to prevent it, and we encourage nurses, carers and their at-risk patients to become 'skin tear aware'. Avoiding soaps that dry the skin and moisturising twice daily with a clinically proven emollient such as Epaderm can help reduce the risk.
hidden1
hidden2
Dressing a skin tear using Mepitel One, Mesoft and Mepitel Film
hidden1
hidden2
How to apply Mepitel One on skin tear
hidden1
hidden2
Dr. Kevin Woo, PhD RN NSWOC WOCC(C) FAPWCA, Associate Professor, Queen's University, Canada, presents their first randomised controlled study evaluating the use of soft silicone dressings to promote healing of skin tears.