Scrub suits
BARRIER Scrub Suits
Fresh and hygienic – for efficient infection control
-/-
BARRIER Scrub Suit – Extra Comfort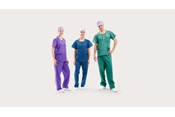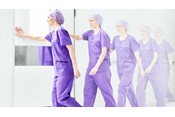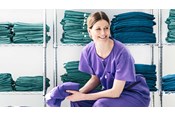 BARRIER® Scrub Suits are fresh and hygienic. You don't have to worry about stains, odours or wear and tear – which can be problems associated with traditional, reusable scrubs.

Our scrubs support infection control, showing lower levels of bacterial air contamination than cotton or polyester scrubs .
BARRIER Extra Comfort Scrub Suit
For extra softness, choose our Extra Comfort scrubs made from Unisoft®, a unique nonwoven material that is lightweight, quiet and also keeps you drier by wicking moisture quickly away from the skin.
Hygienically clean with no wear and tear
Lower bacterial air contamination than cotton or polyester scrubs
Made from low lint materials in a controlled environment to reduce contamination
Extra Comfort scrub suits are soft, quiet and keeps you dry
'Single-use materials from Mölnlycke are much more hygienic than reusable garments. I strongly recommend that my colleagues at other hospitals consider single-use clothing from Mölnlycke.'
Daniel Rascher, OR Nurse, Inselspital, Bern, Switzerland
Further product information
Why use BARRIER

®

Scrub Suits
Unisoft® - a unique breathable nonwoven material
Always conscious of the environment
A lifecycle assessment shows that BARRIER single-use scrub suits have a smaller environmental impact compared to a reusable scrub suit in terms of lower CO2 emissions and eutrophication .
Customer testimonial
Listen to why hospitals choose our BARRIER single-use scrub suits.
Product details
| Ref.No. | Description |
| --- | --- |
| 836109 | Scrub suit, S |
| 836209 | Scrub suit, M |
| 836309 | Scrub suit, L |
| 836409 | Scrub suit, XL |
| 18610 | Scrub-shirt, Small, Green. |
| 18620 | Scrub-shirt, Medium, Green. |
| 18630 | Scrub-shirt, Large, Green. |
| 18640 | Scrub-shirt, X-Large, Green. |
| 18650 | Scrub-shirt, XX-Large, Green. |
| 18710 | Drawstring pants, Small, Green. |
| 18720 | Drawstring pants, Medium, Green. |
| 18730 | Drawstring pants, Large, Green. |
| 18740 | Drawstring pants, X-Large, Green. |
| 18750 | Drawstring pants, XX-Large, Green. |
| 18760 | Drawstring pants, XXX-Large, Green. |
| 21610 | Scrub-shirt, Small, Blue |
| 21620 | Scrub-shirt, Medium, Blue |
| 21630 | Scrub-shirt, Large, Blue |
| 21640 | Scrub-shirt, X-Large, Blue |
| 21650 | Scrub-shirt, XX-Large, Blue |
| 21660 | Scrub-shirt, XXX-Large, Blue |
| 21710 | Drawstring pants, Small, Blue |
| 21720 | Drawstring pants, Medium, Blue |
| 21730 | Drawstring pants, Large, Blue |
| 21740 | Drawstring pants, X-Large, Blue |
| 21750 | Drawstring pants, XX-Large, Blue |
| 21760 | Drawstring pants, XXX-Large, Blue |