Mölnlycke News
Mölnlycke is proud to present My Mölnlycke
Wound experts around the world have told us that access to guidance at the point of care remains a challenge. We want to help healthcare professionals, patients and caregivers to use our solutions optimally for improved outcomes. That's why we've created My Mölnlycke, which enables easy access to support and guidance. With new packaging you have wound care guidance in your hand!
hidden1
hidden2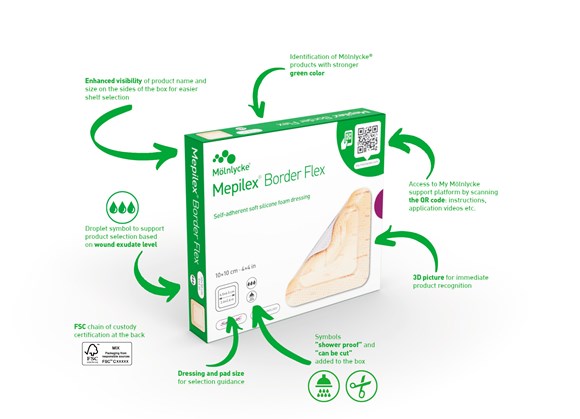 What's new about QR codes and packaging?
A QR code gives you direct access to user information. It can be found on the packaging and unit packaging. When you scan the QR code, you will be taken directly to my.molnlycke.com, where you will find:
Product details
Application guide and video
Dressing change guide
Instruction leaflet
See changes made to the packaging
Improved product image and dressing type explanation – makes it easier to choose the right product
Clearly marked dressing size and pad size
Symbols showing if the product can be worn in the shower or can be cut
Environmental-friendly packaging; Forest Stewardship council (FSC) certified
Watch the video to learn more.
Learn more about My Mölnlycke
Watch the video to learn more about how you can use My Mölnlycke in your everyday life.
hidden1
hidden2
Update of products with QR code will take place for Mepilex® Border Flex, Mepilex® Border Flex Oval, Mepilex® Border Flex Lite, Mepilex® Border Sacrum and Mepilex® Border Heel
hidden1
hidden2
Products and solutions
Related products