Shri's mission to strengthen ties with Operation Smile
January 30, 2018
US Vice-President of Sales and Marketing Shri Parikh was one of the senior leaders who accompanied our volunteers on Operation Smile's recent mission to the Philippines. We spoke to him about his experiences.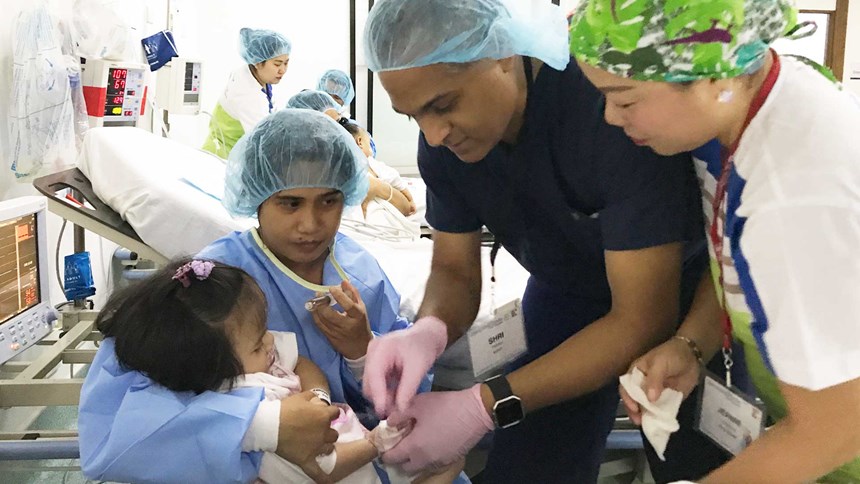 Why were senior leaders on the mission?
It's part of our deeper relationship with Operation Smile since they became one of our two global charities through our CSR focus. We want to strengthen ties between our organisations and learn more about what they do.
What does Operation Smile mean to you?
Operation Smile is such a remarkable organisation. It defines why we are in healthcare and why we do what we do. Operation Smile reminds me about the wider purpose of our products, going beyond the clinical and helping to transform people's lives. The mission helped me get in touch with the human side of what we do as a medical solutions company.
Have you been on a mission before?
As Operation Smile is headquartered in the US, I've had the privilege of working very closely with the Operation Smile team throughout the US as well as their international hospitals and clinics during a recent 2016 visit to Bogota, Colombia. This experience in Iloilo was my first official mission and allowed me to be a part of the entire patient process from pre-screening of prospective patients to the surgery to discharge. Being an active mission participant was profound. I gained clarity and insight into the value of how a sense of purpose coupled with passion and teamwork by the many volunteer groups can produce such extraordinary outcomes.
What was your role?
I was part ambassador for Mölnlycke, making sure the Operation Smile team had what they needed from us – and also part host, making sure our volunteers were comfortable and supported. I also helped out as a volunteer myself, thoroughly enjoying my time with the children and their families.
Did you get close to any of the children?
I followed one small boy, Tristen, who was two years old, from the start of screening day to surgery and post-op. He had surgery for his cleft lip but will need to come back again for an operation on his cleft palate. What really struck me was the humility and gratitude of his family for everything we did, even though the boy's journey to full recovery is just beginning. It was really touching.
What did you learn from the mission?
I learned what our products are able to do and how they perform in a high pressure surgical environment. The feedback we received from the surgeons and nurses was excellent. The experience also added to my knowledge of what Operation Smile does and inspires me to continue to support and raise awareness.
What were your highlights?
For me it was the enthusiasm and helpfulness of our volunteers. It's heart-warming to know that there are so many colleagues in Mölnlycke who are willing to give their time and effort to help some of the world's most disadvantaged children. I'd like to thank them and everyone who helped to fundraise for our charities during 2017.