Corporate giving campaign
Send a smile with Mölnlycke card
October 2, 2020
On World Smile Day, 2 October, in collaboration with our global charity Operation Smile, we are encouraging our employees, partners and customers to send a card in appreciation of the people we value.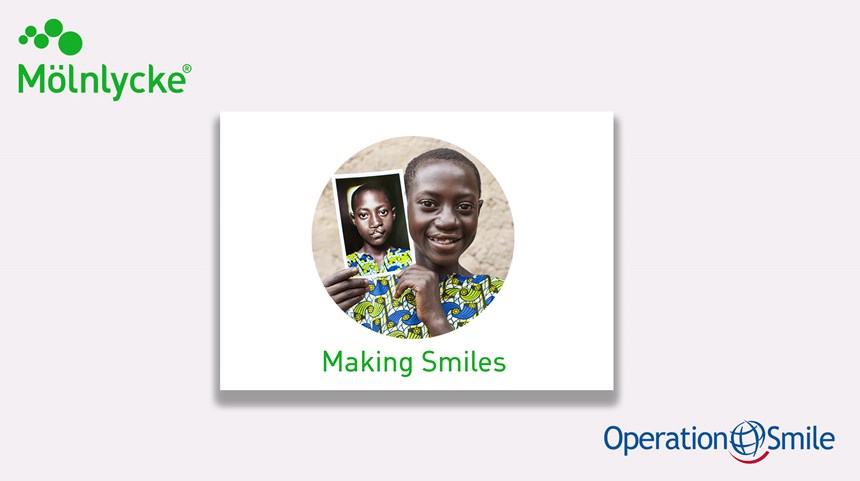 Friday 2 October is World Smile Day, the day when, across the globe, people make everyday life a little bit brighter with a smile. This year, Mölnlycke is making World Smile Day even more special, in partnership with Operation Smile, the global charity which makes children smile by repairing cleft lips and palates.
'We want to celebrate our fantastic colleagues and the rest of the healthcare community for everything they have done this year,' says Martin Lexa, EVP Human Resources and Corporate Communications. 'With most people wearing face masks, smiles have been in short supply recently. What better way to recognise those we appreciate than to make them smile with an e-card!'
For Mölnlycke, the initiative is about fundraising too. The company is asking people to make a small donation of EUR 1 to Operation Smile for each e-card that they send. If 10,000 cards are sent, Mölnlycke will donate an additional EUR 20,000 to help change lives of young people with facial deformities.
hidden1
hidden2
You can read more about Mölnlycke's collaboration with Operation Smile here.
Follow us on social media to find out more and see the e-cards that get sent.
Share the cards you sent or received on Social Media using the hashtag #makingsmiles2020.