BLOG
Biofilm and wound exudates management
June 30, 2020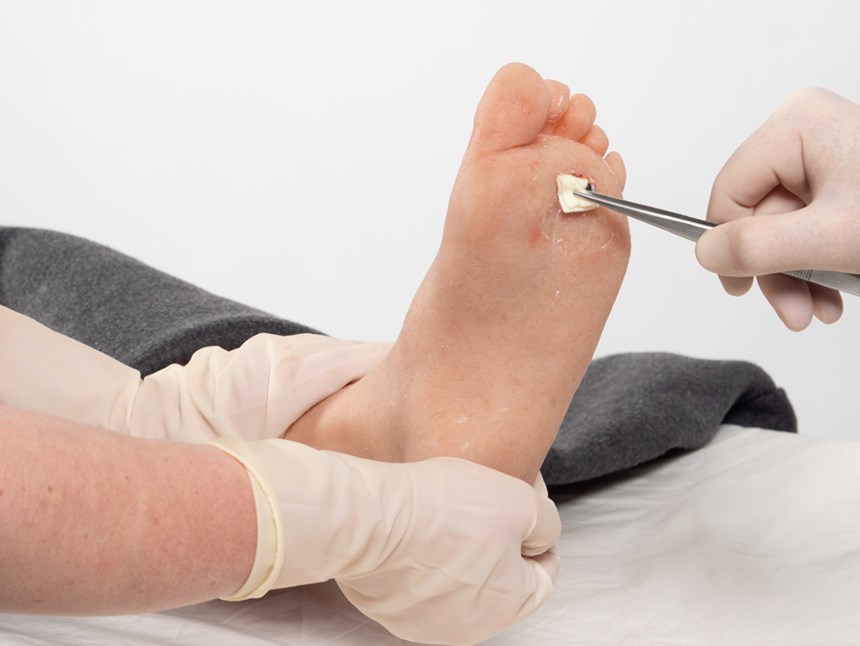 Wound exudate is produced by the body as part of the natural healing process and also
due to the body's immune response, however, sometimes it can be problematic for many patients because it indicates an infection and causes tissue damage which may decrease the quality of life.

When adequate wound management and quality dressing choices are not used, it inevitably
results in delayed healing. Moreover, excessive volumes of exudate lead to biofilm formation,
which can also delay wound healing (Atkin, Stephenson, and Cooper, 2020, p.382). Many
factors lead to the production of excessive exudate.
Improper dressing and management, underlying conditions that increase capillary leakages, pathology of the wound, medication such as steroids, the development of edema, increased bacterial burden, and lymphatic functioning failures all can contribute to a less than optimal outcome (Ellis, 2017, p.454). Therefore, effective management is essential to ensure timely wound healing without complications.
The crucial step for managing highly exuding wounds and biofilm formation is a thorough assessment procedure. The assessment procedure includes a clear elaboration of wound exudate type and quantity and identifying the main approach to be utilized in creating an accurate treatment plan (Barrett, Rippon, and Rogers, 2020, p.345). In addition, assessment has an impact on wound diagnosis, treatment, and management (Binkanan, 2019, p.24). The presence of exudate indicates wound infection, an underlying bleeding disorder, trauma, and discharge (Nerenberg, 2016, p.134). All this information combined with appropriate techniques should be used in choosing the right dressing and materials.
The primary approach to managing high exudate wounds and biofilm formation is dressing selection. Different dressing methods have distinct characteristics, and the materials utilized differ in their capability and quality of handling fluid (Gianino, Miller and Gilmore, 2018, p.51). The characteristics of suitable dressing material that can manage a large quantity of exudate include absorbency, leakage eradication between dressing variations, hindrance of strikethrough, and protection against maceration and excoriation. According to Bowler and Parsons (2016, p.10), the material used for dressing should be utilizable under compression to stay intact or left under the wound for a long time. Likewise, the material should be easily removable to minimize trauma and pain. It should also be relatively affordable and comfortable. Apart from proper dressing selection, wound drainage bags and vacuum-assisted closures are required because they collect large quantities of exudate.
Additionally, a wound that has biofilm infection needs treatment that does not damage the healing mechanism. Treatment choices include wide-spectrum antibiotics, topical agents, and debridement. All these treatments should be utilized concurrently instead of consecutively. Debridement will remove biofilm partially and result in gene expression that will raise virulence (Lindholm and Searle, 2016, p.13). The biofilm will become adaptive and more active. Thus, an intensive approach to managing biofilm is needed, and it should be a repetitive debridement done at least once each week (Beldon, 2016 p.34). Fast removal of exudate from the wound would stop biofilm formation, and there would be less utilization of nutrients in the biofilm. For instance, gelling fiber dressing is used to effectively absorb and retain large amounts of exudate, thereby preventing maceration especially in full-thickness pressure injuries and diabetic foot ulcers.
Another strategy for managing high exudate wounds and biofilm focuses on appropriate wound cleansing. Wound cleansing is performed to eradicate contaminants, debris, dressing remains, and superficial slough (Edwards-Jones, 2018, p.719). Scrubbing of the wound is not recommended because it could lead to trauma (Bowler and Parsons, 2016, p.9).
Patient engagement and preference should also be considered, especially if the patient understands the treatment plan's integral strategies. Some patients may have underlying medical, social, and psychological issues that may go against the proposed wound management plan (Meyer and Enax, 2019, p.287). All medical practitioners should collaborate to determine the best care that reflects the client's needs (Curtis, 2020, p.78). This type of holistic strategy for dealing with exudate and biofilm management is essential and will result in patient concordance and satisfaction.
References:
Atkin, L., Stephenson, J. and Cooper, D.M., 2020. Wound bed preparation: a case series using
polyhexanide and betaine solution and gel—a UK perspective. Journal of Wound
Care, 29(7).
Barrett, S., Rippon, M. and Rogers, A.A., 2020. Treatment of 52 patients with a self-adhesive
siliconised superabsorbent dressing: a multicentre observational study. Journal of Wound
Care.
Beldon, P., 2016. How to recognise, assess and control wound exudate. J Community
Binkanan, A., 2019. The impact of pressure ulcer assessment on clinicians. Wounds Middle East.
Bowler, P.G. and Parsons, D., 2016. Combatting wound biofilm and recalcitrance with a novel
anti-biofilm Hydrofiber® wound dressing. Wound Medicine, 14, pp.6-11.
Cooper, R. and Kirketerp-Møller, K., 2018. Non-antibiotic antimicrobial interventions and
antimicrobial stewardship in wound care. Journal of Wound Care, 27(6), pp.355-377.
Curtis, A., 2020. Biofilms and their significance in veterinary wound management. The
Veterinary Nurse, 11(2), pp.75-81.
Desroche, N., Dropet, C., Janod, P. and Guzzo, J., 2016. Antibacterial properties and reduction
of MRSA biofilm with a dressing combining polyabsorbent fibres and a silver
matrix. Journal of wound care, 25(10).
Dissemond, J., Eberlein, T., Bültemann, A., Riepe, G., Stoffels, I., Stephen-Haynes, J., Roes, C.
and Abel, M., 2018. A purpose-designed monofilament-fibre pad for debridement of
hard-to-reach wounds: experience in clinical practice. Journal of Wound Care, 27(7),
pp.421-425.
Edwards-Jones, V., 2018. Antimicrobial assessment of a chitosan microfibre dressing: a natural
antimicrobial. Journal of wound care, 27(11).
Ellis, M., 2017. Treating highly exuding wounds in the community setting. Wound Care, 25(8).
Gianino, E., Miller, C. and Gilmore, J., 2018. Smart wound dressings for diabetic chronic
wounds. Bioengineering.
Han, G. and Ceilley, R., 2017. Chronic wound healing: a review of current management and
treatments. Advances in therapy, 34(3).
Hughes, M.A. And Jones, J., 2017. A large-scale evaluation of managing moderate and highly
exuding wounds in the community. Wounds UK, 13(3).
Isoherranen, K., O'brien, J.J., Barker, J., Dissemond, J., Hafner, J., Jemec, G.B., Kamarachev, J.,
Läuchli, S., Montero, E.C., Nobbe, S. and Sunderkötter, C., 2019. Atypical wounds. Best
clinical practice and challenges. Journal of wound care, 28(Sup6), pp. S1-S92.
Jones, N., Ivins, N., Ebdon, V., Hagelstein, S. And Harding, K., 2017. A case series evaluating
the use of a gelling fibre dressing for moderate to highly exuding wounds. Wounds
UK, 13(3).
Kelechi, T.J., Prentice, M., Madisetti, M., Brunette, G. and Mueller, M., 2017. Palliative care in
the management of pain, odor, and exudate in chronic wounds at the end of life: a cohort
study. Journal of Hospice & Palliative Nursing, 19(1), pp. 17-25.
Kirsner, R.S., Amaya, R., Bass, K., Boyar, V., Ciprandi, G., Glat, P.M., Percival, S.L.,
Romanelli, M. and Pittinger, T.P., 2019. Effects of a surfactant-based gel on acute and
chronic paediatric wounds: a panel discussion and case series. Journal of wound
care, 28(6).
Lindholm, C. and Searle, R., 2016. Wound management for the 21st century: combining
effectiveness and efficiency. International wound journal.
Malone, M. and Swanson, T., 2017. Biofilm-based wound care: the importance of debridement
in biofilm treatment strategies. British Journal of Community Nursing, 22(Sup6), pp.
S20-S25.
Mauffrey, C., Herbert, B., Young, H., Wilson, M.L., Hake, M. and Stahel, P.F., 2016. The role of
biofilm on orthopaedic implants: the "Holy Grail" of post-traumatic infection
management? European Journal of Trauma and Emergency Surgery, 42(4), pp.411-416.
McIntosh, C., Ivory, J.D. and Gethin, G., 2019. Managing wound exudate in diabetic foot
ulcers. Diabetic Foot Journal, 22(1).
Meyer, F. and Enax, J., 2019. Hydroxyapatite in oral biofilm management. European journal of
dentistry.
Morgado, P.I., Miguel, S.P., Correia, I.J. and Aguiar-Ricardo, A., 2017. Ibuprofen loaded
PVA/chitosan membranes: A highly efficient strategy towards an improved skin wound
healing. Carbohydrate polymers.
Nerenberg, R., 2016. The membrane-biofilm reactor (MBfR) as a counter-diffusional biofilm
process. Current opinion in biotechnology.
Newton, H., Edwards, J., Mitchell, L. and Percival, S.L., 2017. Role of slough and biofilm in
delaying healing in chronic wounds. British Journal of Nursing, 26(Sup20a), pp. S4-S11.
Ofstead, C.L., Buro, B.L., Hopkins, K.M. and Eiland, J.E., 2020. The impact of continuous
electrical microcurrent on acute and hard-to-heal wounds: a systematic review. Journal of
Wound Care, 29(Sup7).
Ousey, K., Walker, A., Brace, J., Duteille, F., Probst, A., Hughes, M., Milne, C. and Cole, W.,
2019. A multipurpose dressing: A clinical review of the absorption, debridement and
healing properties of Aquacel Foam. Journal of wound care, 28(Sup9a), pp. S1-S23.
Percival, S.L., 2018. Restoring balance: biofilms and wound dressings. Journal of wound
care, 27(2).
Percival, S.L., Mayer, D., Malone, M., Swanson, T., Gibson, D. and Schultz, G., 2017.
Surfactants and their role in wound cleansing and biofilm management. Journal of
Wound Care, 26(11).
Powers, J.G., Higham, C., Broussard, K. and Phillips, T.J., 2016. Wound healing and treating
wounds: Chronic wound care and management. Journal of the American Academy of
Dermatology, 74(4).
Rennie, M.Y., Lindvere-Teene, L., Tapang, K. and Linden, R., 2017. Point-of-care fluorescence
imaging predicts the presence of pathogenic bacteria in wounds: a clinical study. Journal
of Wound Care, 26(8).
Rippon, M.G., Rogers, A.A., Sellars, L., Styles, K.M. and Westgate, S., 2018. Effectiveness of a
non-medicated wound dressing on attached and biofilm encased bacteria: laboratory and
clinical evidence. Journal of wound care, 27(3).
Roes, C., Calladine, L. and Morris, C., 2019. Biofilm management using monofilament fiber
debridement technology: outcomes and clinician and patient satisfaction. Journal of
Wound Care, 28(9).
Roes, C., Calladine, L. and Morris, C., 2019. Rapid debridement with monofilament fiber
debridement technology: clinical outcomes and practitioner satisfaction. Journal of
Wound Care, 28(8).
Ruseva, K., Ivanova, K., Todorova, K., Gabrashanska, M., Hinojosa-Caballero, D., Tzanov, T.
and Vassileva, E., 2019. Poly (sulfobetaine methacrylate)/poly (ethylene glycol)
hydrogels for chronic wounds management. European Polymer Journal.
Swanson, T., Lázaro-Martínez, J.L., Braumann, C., Kirchhoff, J.B., Gächter, B. and van Acker,
K., 2020. Ultrasonic-assisted wound debridement: report from a closed panel
meeting. Journal of Wound Care, 29(2).
Thibodeaux, K.T., Speyrer, M.S., Thibodeaux, R.P., Rogers, A.A. and Rippon, M.G., 2020.
Management of postoperative bleeding in surgically debrided wounds: topical hemostat
versus electrocautery. Journal of Wound Care, 29(8).
Tickle, J., 2017. Introducing a new superabsorbent dressing to manage wound exudate. British
Journal of Nursing, 26(Sup20).
Vowden, K. and Vowden, P., 2017. Wound dressings: principles and practice. Surgery
(Oxford), 35(9).
Wainer, C., 2020. The importance of oral hygiene for patients on mechanical ventilation. British
Journal of Nursing, 29(15).
Wolcott, R.D., Cook, R.G., Johnson, E., Jones, C.E., Kennedy, J.P., Simman, R., Woo, K., Weir,
D., Schultz, G. and Hermans, M.H., 2020. A review of iodine-based compounds, with a
focus on biofilms: results of an expert panel. Journal of Wound Care, 29(Sup7).
Woo, K., Hill, R., LeBlanc, K., Percival, S.L., Schultz, G., Weir, D., Swanson, T. and Mayer,
D.O., 2018. Effect of a surfactant-based gel on patient quality of life. Journal of wound
care, 27(10).
hidden1
hidden2

Abdulaziz Binkanan
Head of wound care unit at King Saud Medical city in Riyadh